There is a common expression of worth that goes "This is worth its weight in gold"
I recently said this about my trusty Leatherman© Wave®+ Multitool
And then thought "How much would that actually be"
So I made a calculator:
Presenting: Gold Calculator!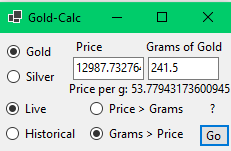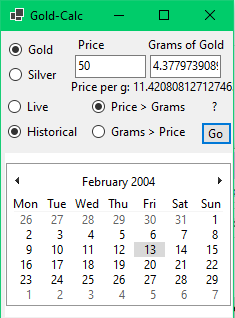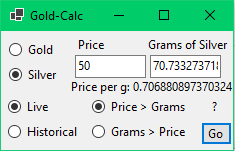 It allows the user to easily find out how much gold (or silver) they could buy for x amount or money, or how much x amount of gold would be worth in currency
It even gets the current gold / silver price from a little API, although it does convert it from price per oz to price per gram, since I don't care for ounces
It also allows you to get historical prices for any date down to 1999
Now my leatherman weights 241.5 grams, which using gold prices at time of publication equals 12988 Euro, or 170.71 if it were silver
It cost about 149.95 Euros, which would be only 2.78 grams of gold, or 212.12 of silver
So its either worth 8561.55% more than what they are selling it for, or the expression is just that, a expression.
Or both!
Anyway
As always, the source code is available at my GitHub here, with binaries being available here
If you found it interesting or useful in any way, or have any questions about it, feel free to Contact me.